22 teams and over 120 programmers from Russia and CIS took part in the competition.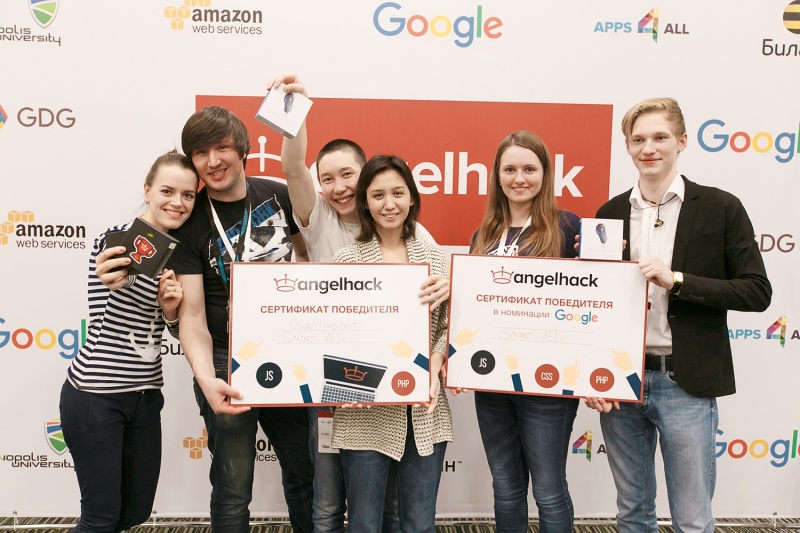 The regional round of the world's largest and well-known hackathon, that took place at Innopolis University this weekend, has become the first among the top-5 similar events held in Russia and the Republic of Belarus.
The core concept of one of the most diversified global hackathons involving developers, designers and project-makers in the domain of mobile and web-apps is to promote state-of-the-art developments IT and solutions and support ideas and initiatives related to marketing of new products and services in this field.
Amazon Web Services, Code4Impact, Google and Beeline introduced their own nominations along with the common nomination, where teams are given 24 hours to design a prototype of a mobile or web-app that features a smart idea, unique design and good technical feasibility.
After that, participants presented their prototypes to the recognized hi-tech industry experts and representatives of the hackathon partner companies.
Smart AED, one of the projects presented at the competition and developed by the same-named team of Innopolis University, won in two AngelHack nominations: Code4Impact, focused on the application of technologies to deal with social and environmental issues, and the local nomination by Google, that supports projects related to Eddystone beacons.
Sudden cardiac death (SCD) is a form of natural death due to cardiac causes characterized by abrupt loss of consciousness within one hour after the onset of acute symptoms. SCD always occurs suddenly, irrespective of the fact if a cardiac disease was detected before or not.
«Every year over 3 million people die of SCD. The concept of early defibrillation that formed the basis for our project has been in-demand and effective tool used to save human lives in case of sudden cardiac arrest. Even people of non-medical profession know that defibrillation shall be made within 1-7 minutes after the incident, because biological mechanisms of death usually follow in 10 minutes. For this reason, public access defibrillators (PADs) are available in public places in European and U.S. American cities. Our Smart AED system (smart automatic external defibrillator) provides automated and short-term emergency measures in a critical situation like sudden cardiac arrest, thus raising the chances of surviving a heart attack», - told Elena Musatova, a member of Smart AED and a 3rd-year student of Innopolis University.
The best team at AngelHack Innopolis will go to San Francisco, the birthplace of AngelHack where it will take part in the global Demo Day event together with the AngelHack winners from all the countries involved in the competition. Besides, the winners will have a chance to take part in the HACKcelerator 12-week training program that gathers ambitious developers and leading IT market experts to create successful and investment-attractive hi-tech startups.