On August 15, 2014 the first bachelor students visited the construction site of the most ambitious IT-city building project. Innopolis is a federal project that includes a special economic zone, a technopark, residential and social infrastructure and Innopolis University itself.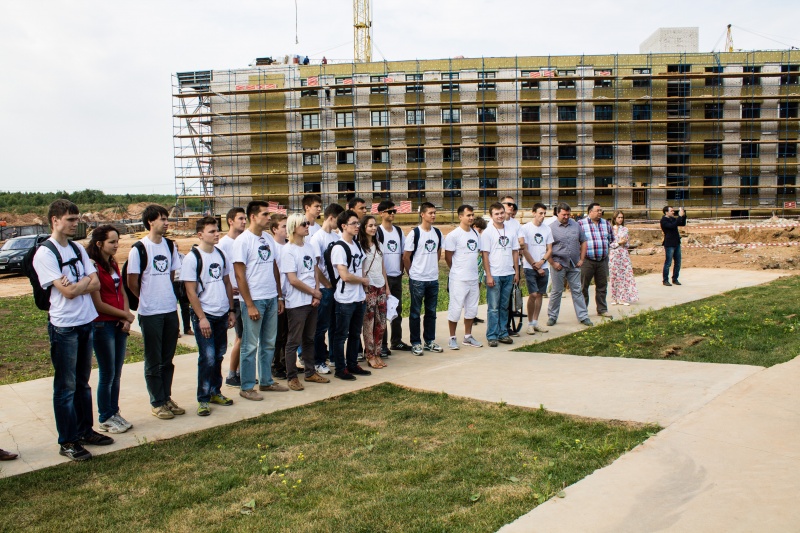 Alexander Tormasov, IU's Rector was the first person who made a welcoming speech. He mentioned the mutual responsibility between the students and the university and stated that everyone would be watching students' progress.
26 students who successfully passed the selection process will start studying as bachelors under the Computer Science undergraduate program. Among them there are students from Moscow, Tatarstan, Bashkortostan, Sverdlovsk, Vladimir and Nizhniy Novgorod regions.
CEOs of Tatarstan IT industry visited Bachelor Opening Day. Among them was Anton Grachev, the head of two best technoparks, the director of Kazan IT-park. He admitted that the students have great perspectives.
Artur Yusupov, Director for Development of Runa Capital venture fund, Representative of Sergey Belousov (member of IU's Board of Trustees, founder of Acronis and Paralles) said to the students that they are the pioneers of the first Russian IT university. He also mentioned that it is always exciting to be the first. A.Yusupov said that students have great opportunities for self-development and wished them to use their time and knowledge to do the best for themsleves, Tatarstan and Russia.
The ceremonial part of the event was capped with the symbolic planting of a "class-tree" where the students wrote wishes to the next generations of students. The final point of the event was the tour around the future Innopolis.