The government of the Republic of Tatarstan, Gazprombank and the Russian Presidential Academy of National Economy and Public Administration (RANEPA) have signed a cooperation agreement. The parties have agreed to organize joint internship and start new training programs in robotics, high-technology platforms, blockchain, mobile development, data analysis, and cybersecurity.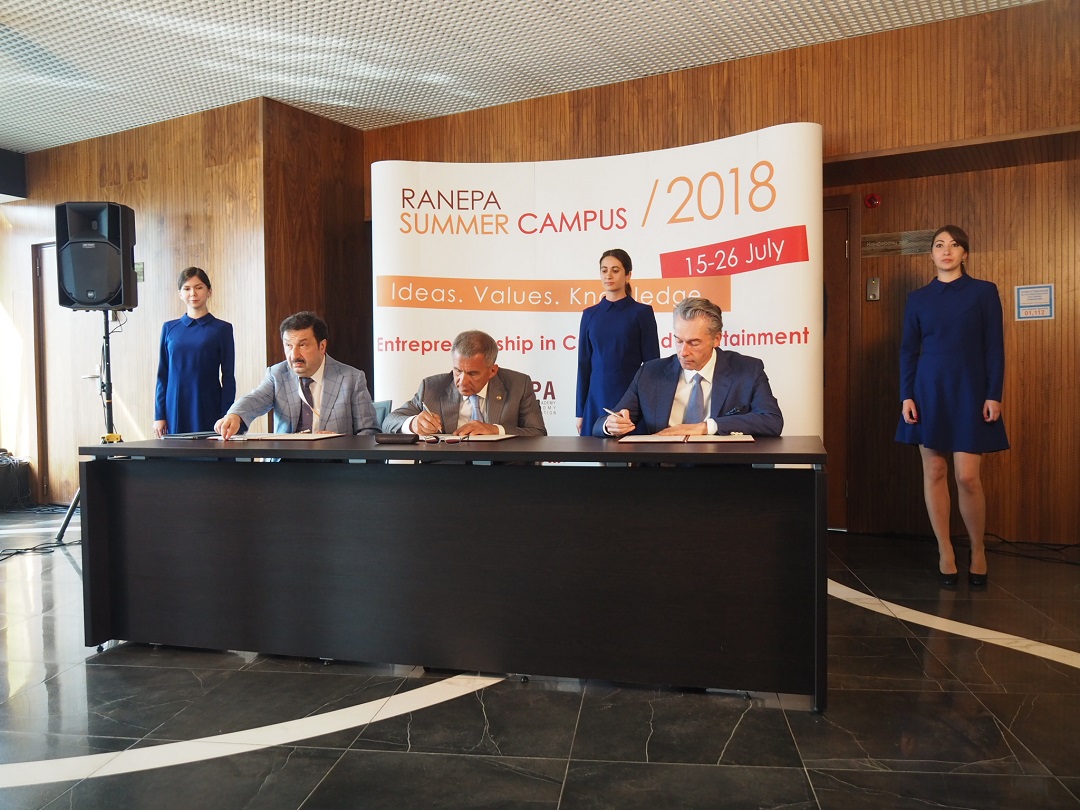 On July 16, the agreement was signed by the President of the Republic of Tatarstan Rustam Minnikhanov, the Deputy Chairman of the Management Board at Gazprombank Vadim Kulik and the Rector of RANEPA Vladimir Mau in the framework of RANEPA Summer Campus held in Innopolis.
"The bank has recently launched a program of technological transformation that requires from employees rare and unique competencies in the field of robotics, high-tech, mobile development, blockchain, data analysis and digitalization, including understanding of technological processes. Cooperation with Innopolis University and RANEPA will give us an opportunity to build these competencies according to our tasks through the implementation of joint training programs, internships and practice", — said the Deputy Chairman of the Management Board at Gazprombank Vadim Kulik.
"Our cooperation started last year as part of joint development of the course "Digital Society and Digital Government," which was read by the faculty members of Innopolis University to students of six faculties of the Academy and highly appreciated by the latter. This agreement will help us to expand and speed up our joint projects, — said the Deputy Prime Minister of the Republic of Tatarstan, Minister of Informatization and Communications Roman Shaykhutdinov. — In the near future we plan to launch online courses, educational and internship programs for training software developers. This agreement proves the demand for high-level competencies and capabilities of Innopolis University. One of the top priorities of the government of the Republic of Tatarstan is training of qualified specialists and creation of comfortable conditions for life and development".
Vladimir Mau, Rector of RANEPA noticed: "Signing of the agreement on research and educational cooperation between RANEPA, Gazprombank and the government of the Republic of Tatarstan is an important step to expand our cooperation in digital economy conditions. As part of this cooperation we will welcome employees of Gazprombank willing to take advanced training in Moscow and other branches in Russia. Students of the Academy will have a chance to do internship in the bank. I am sure that our cooperation will reach a new level. It is highly important that the agreement was signed in Innopolis. Every year Innopolis provides a platform for RANEPA Summer Campus, one of the largest international events that brings together 220 best students from all parts of Russia and many countries of the world."