In total, Russian students won 29 medals at the tournament: 11 gold, 8 silver and 10 bronze. 200 school students from 9 countries attended the competition in the category "Junior" in the age till 15.5 years old and in the category "Senior" — school students in the age of 15.5 years plus. 44 participants represented Russia.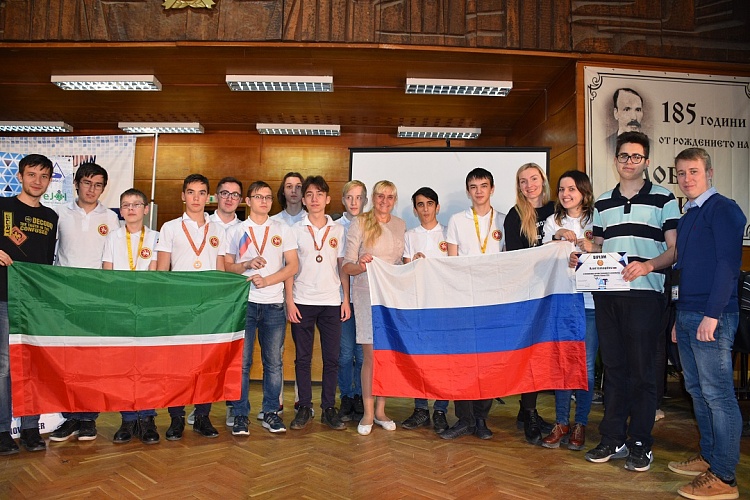 Tatarstan students, who have passed trainings at the Russian IT University, brought home 3 gold and 6 bronze medals. Bulat Kharisov and Bulat Minnekhanov returned to the Republic with gold medals in the category "Junior", Kamil Sharipov, Artur Lukyanov — with bronze medals. Ildar Gainullin won gold medal in the category "Senior" for Tatarstan, Azat Ismagilov, Arseny Staroverov, Bulat Minnakhmetov and Alexey Maximov won bronze.
The International Autumn Informatics Tournament has been held in Bulgaria since 2009 on the initiative of the head of the National Informatics Committee of the Ministry of Education and Science of Bulgaria. This is the only international competition in Informatics, which is held in two age groups - junior (till 15.5 years old) and senior.
Within two days, the participants perform 6 tasks in programming languages: C++. Each task gives from 0 to 100 points.
The contest takes place in the city of Shumen under the patronage of the mayor of the city, Lubomir Christov.
In 2018, school students from Russia, Bulgaria, Armenia, Romania, Moldova, Switzerland, Serbia, Azerbaijan and Poland participated in the tournament.
Performance results of "Juniors"
5 gold medals:
Anton Sadovnichii (the best score, 385 points)

Mikhail Budnikov (381 points)

Maxim Shuklin (380 points)

Bulat Kharisov (375 points)

Bulat Minnekhanov (347 points)
5 silver medals:
Konstantin Frolov (330 points)

Danil Klishch (325 points)

Fyodor Ushakov (322 points)

Anastasia Runova (300 points)

Alisa Gladchenko (283 points)
5 bronze medals:
Polina Musina (233 points)

Kamil Sharipov (228 points)

Nikita Golubev (227 points)

Artur Lukyanov (225 points)

Ekaterina Shilyaeva (178 points)
Performance results of "Seniors"
6 gold medals:
Semyon Savkin (362 points, the best score)

Ildar Gainullin (311 points)

Savely Grigoriev (296 points)

Vladimir Romanov (277 points)

Alexander Shekhovtsov (257 points)

Alexander Morozov (251 points)
3 silver medals:
Egor Lifar (231 points)

Andrey Efremov (210 points)

Andrey Odintsov (186 points)
5 bronze medals:
Fyodor Kuyanov (167 points)

Bulat Minnakhmetov (167 points)

Azat Ismagilov (151 points)

Arseny Staroverov (125 points)

Alexey Maksimov (113 points)