Innopolis University, as part of the project on building the first Russian city for IT professionals, was represented at the exhibition "Open Innovations Expo". The exhibition was held as part of the Moscow International Forum for Innovative Development "Open Innovations", which took place from October 14 to 16, 2014 at Technopolis "Moscow", and has traditionally become a place that brings together representatives of business, science and government structures from Russia and abroad.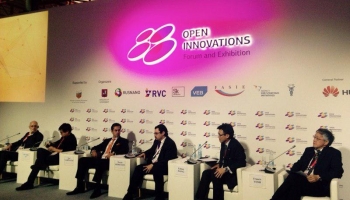 The following topics were discussed at the forum: current trends and prospects of development of information technologies, international collaboration in the area of innovations. The main elements of the Innopolis City urban ecosystem were displayed at the Open Innovations Expo, including a special economic zone "Innopolis", Innopolis University, as well as a social and administrative infrastructure. A series of meetings were held at the forum.
Director of Innopolis University Dmitry Kondratyev participated in a roundtable discussion dedicated to collaboration between Russia and China in the field of innovations. During the meeting, participants discussed modern models of university education and creation of favorable conditions for development of science and implementation of innovations.