Mikhail Fadeev and Vladimir Turanov, members of Innopolis University team, presented their satellite in
the framework of the competition that took place in Moscow.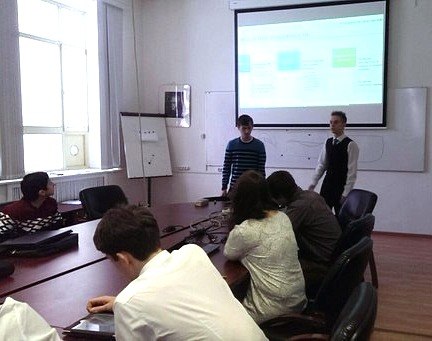 While the STEM Center of Innopolis University conducted an open doors day, a team of pupils who have been studying in it since 2 years struggled to get a place in the final stage of the CanSat competition. It is to take place in Moscow, children will compete in launching school satellites.
The team included Mikhail Fadeev and Vladimir Turanov who have been working on a project of a satellite and its presentation since November 2014. A teacher and robotics methodist Evgeny Sazonov supervised their project.
Our team was one of the best among the competitors from different Russian regions, and was invited to participate in the summer Final of CanSat.
We are happy to congratulate boys and their teachers, and wish them to succeed in the Final.
Reference: The CanSat project was initiated in 2012. Its organizers are Lomonosov Moscow State University - Skobeltsyn Institute of Nuclear Physics and the Museum of Cosmonautics, Moscow. The main task of the competition is to build up and program a microsatellite weighing less than 350g. At the same time, all interior elements as on-board computer, power system, receiver etc, must fit into a 0,5 liter container. The satellite is launched by a rocket or dropped by a helicopter. While falling with a parachute from the height of 1-2km, it has to send some useful data.