On December 2—3, students of the IT University will compete for the right to join ACM ICPC international finals in Beijing.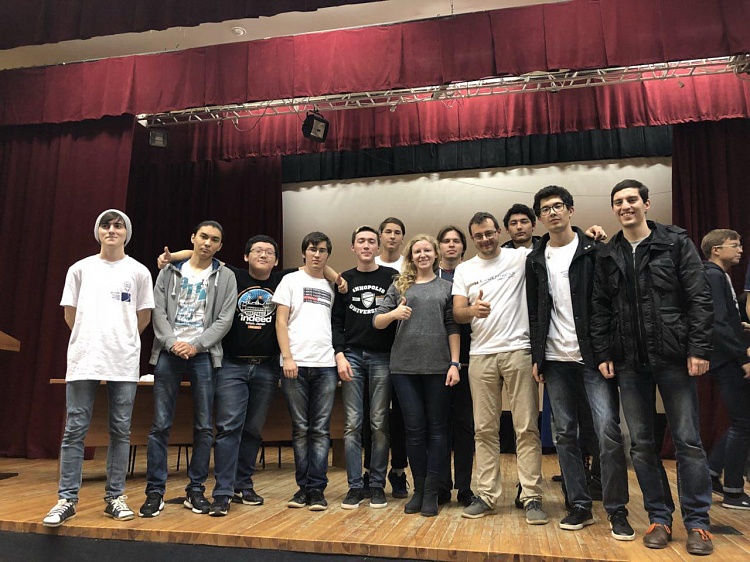 ACM ICPC 1/4 finals took place at Saratov State University. Participants had 5 hours to deal with 13 programming tasks using one of allowed languages, in particular, C/C++, C#, Java, or Python.
"Last year we failed to reach the semi-finals. This time we did error correction before the 1/4 finals in Saratov, — told Ildar Yalalov, a student of Innopolis University, whose team made it into the semi-finals this year. — It is a pity that we had a penalty time which prevented us from being one of top-3 teams. Meanwhile, we are pleased with the achieved results".
Ildar mentioned that the team has already started getting ready to the semi-finals to be held in December in Saint Petersburg: "It will be a different level of the competition. The tasks at semi-finals are more challenging and competitors from the CIS countries are very strong", — summed up the student.
The International Collegiate Programming Contest has been held since 1977. Last year, the competition gathered 46,381 students from 2,948 universities, 103 countries and 6 continents. The teams willing to reach the semi-finals need to pass local selections organized in different regions. In particular, Russia and 10 other countries belong to the area of Northern Europe.
Selections in Russia are held according to the area-based principle, that is why students of Innopolis University take part in the qualifying round together with programmers from the Volga Region, South and North Caucasus Federal Regions. The qualifying round was held at Innopolis University on September 17. According to the competition results, 9 teams representing the IT University reached the 1/4 finals.
"Several teams representing Innopolis University claimed to reach the semi-finals. Till the very end of the round, it was unclear which team would pass to the next stage of the competition. I hope that next year the competitive rate among students of Innopolis University at the semi-finals of the most prestigious international programming contest will be even higher", — pointed out Olga Kornienko, Director for Pre-University Education who mentioned that students have a weekly training in competitive programming club at Innopolis University.
Olga Kornienko noticed that Ilnar Sabirzyanov, head of the team that reached the semi-finals and all its members, are involved in the University's projects on pre-educational training together with schoolchildren: "Only the best students of Innopolis University get a chance to join this competition, that is why we are sure that they will give a proper guidance to a young generation of prospective students of Innopolis University"