78 teachers from Ukraine, Belorussia, and 28 Russian regions took advanced training at the platform of the IT University.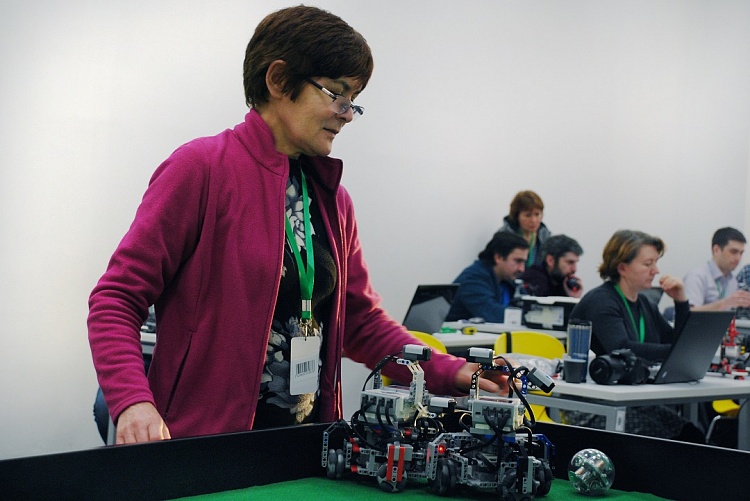 During 6 days teachers improved the level of their skills and knowledge in 3 disciplines: mobile robotics of intermediate and advanced level and development of creative projects. This year there were some courses introduced first time, in particular, technical vision in unmanned flying vehicles, development and programming of autonomous underwater robots, and robot football.
"Third part of participants took the advanced training courses not for the first time, including experienced mentors whose teams became winners of Olympiads and prize-holders. These experts decided to study a new area, — told Rustam Kagapov, Counsellor for Olympiad Robotics at Innopolis University and academic adviser of courses. — The teachers can use the acquired knowledge to give lessons of Olympiad Robotics, and train teams to participate in project competitions in the relevant area".
The teachers were trained by robotic mentors whose teams became winners of Olympiads and partners of the Russian Robot Olympiad — Robotics Development Centre, Popkov Robotics and Copter Express.
After the training courses, the teachers received state certificates proving that participants underwent 64-hours long advanced training.
Since 2014, Innopolis University has been hosting the Russian Robot Olympiads and training the Russian national team for the World Robot Olympiad. In 2017, the Russian Robot Olympiad held at Innopolis University gathered 589 schoolchildren and students from 50 Russian regions. At the World Robot Olympiad in Costa Rica the Russian national team won five gold, one silver and two bronze medals.