A world leading manufacturer of industrial robotic systems and the first Russian IT-University have signed a cooperation agreement during the CIPR Conference.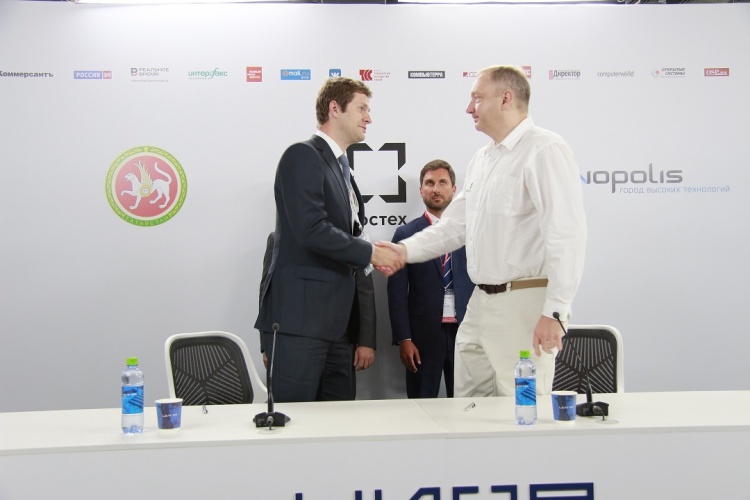 KUKA Robotics RUS and Innopolis University have formalized their agreement on joint development of technology-related solutions, organization of flexible robotic manufacturing based on contracts with industrial enterprises, optimization of application methods in robotics for prospective studies. The parties will also start cooperation focused on development of periphery devices for robotic systems in medicine and industry, exchange of technology and research data and creation of joint educational programs for training of students and building additional competencies of employees of the University's industrial partner.
The faculty of Innopolis University will assist in applied research studies and R&D based on KUKA's robotic complexes. Representatives of KUKA Robotics RUS will help the IT-University to develop teaching materials that are necessary for training in Robotics and Mechatronics.
Ivan Ermolaev, CEO of KUKA Robotics RUS: "KUKA is a pioneer in robotics and automation technology. More than 30 of KUKA colleges located worldwide allow users of robots to learn how to handle robots and KUKA software and gain an expert status. We pay much attention to training of experts in dealing with robotic technologies. In this respect, cooperation with Innopolis University helps to make the process of expert training more efficient. Besides, talented University graduates are always welcome to do their internship and get employed in our company".
"Innopolis University offers a Master's degree program in Robotics. The University has the Laboratory of Intelligent Robotic Systems and the Laboratory of Cognitive Robotic Systems. From 2014, our University has been hosting the Russian Robot Olympiad and training the Russian national team for participation in the World Robot Olympiad. Starting cooperation with a giant of industry like KUKA Robotics is not just a piece of good news. It is a key to successful development of our educational programs and promoting the Russian robotic movement", - commented on signing of the cooperation agreement Alexander Tormasov, Rector of Innopolis University.