The two higher education institutions have agreed to join their forces to attract prospective students, develop professional standards in the IT area and organize the Russian IT Championship.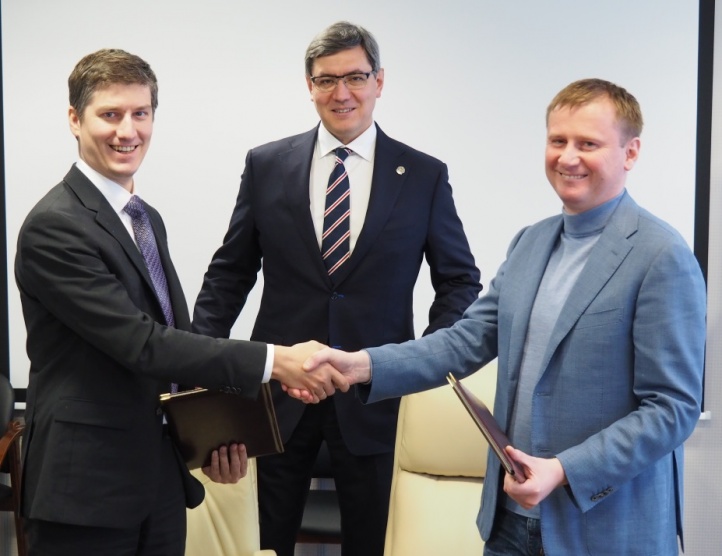 On December 6, Kirill Semenikhin, Director of Innopolis University, and Andrey Nikolaenko, Rector of Moscow Polytechnic University, signed an agreement on cooperation between the higher education institutions.

The two sides have agreed on exchange of educational experience, collaboration in training of specialists and development of professional standards that are currently missing in the IT sphere. So far, Data Science has not been included in the official list of existing professions.

Besides, the parties plan to work with the legal framework, prepare national standards and technical regulations, conduct joint research and development in the field of Information Technology. The two universities will establish joint working groups and creative teams to promote the Olympiad movement in Russia: the NTI Olympiad (National Technological Initiative), the Russian Robot Olympiad and the Open Olympiad in Informatics and Mathematics.

Representatives of the higher education institutions discussed joint efforts on implementation of accelerated training programmes for IT specialties and discussed how to engage graduates of Moscow Polytechnic University in resident companies of Innopolis Special Economic Zone.

Both universities are seeking for talented young people and are interested in introduction of new practices and competitions. Moscow Polytechnic University and Innopolis University are going to make a general list of annual events and organize IT Tech, a new Russian championship based on the WorldSkills methodology for employees of IT companies and IT departments of large corporations.

Moscow Polytechnic University is also interested in adoption of the best practices related to construction of the student campus at Innopolis University in order to build a new campus of its own.

According to Kirill Semenikhin, Director of Innopolis University: "Innopolis University and Moscow Polytechnic University have a great potential for cooperation. We have different programmes but we act in the framework of our strategic goal aimed at training of IT professionals for development of the Russian digital economy. We plan to combine our admission campaigns what is a novelty for the academia. Applicants who failed to receive a study grant from Innopolis University will be able to be enrolled in Moscow Polytechnic University. Once they earn a Bachelor's degree there, students will undertake a Master's degree programme at Innopolis University. Joint hackathons will become one of possible formats of such admission policy.
Andrey Nikolaenko, Rector of Moscow Polytechnic University, commented on the issue: "Over the past three years, Moscow Polytechnic University has fully updated and keeps developing educational programs of the IT Department that trains almost 2,000 students. In this context, our universities face common challenges i.e. training of demanded and highly skilled IT experts based on new programmes that meet employers' expectations. Our universities are among the NTI Universities, and thus make a part of the community of leading universities that took the challenge of training IT professionals for perspective and high-technology industries. We already cooperate in development of a new generation of Master's degree programmes and work together on organization of the NTI Olympiad. In the near future, we are going to expand our cooperation by means of joint educational and research projects.
Photo: Ministry of Information and Communication of the Republic of Tatarstan