The Olympiad was conducted on the base of Innopolis University, and 500 young robotics enthusiasts from 50 regions of Russia participated in it.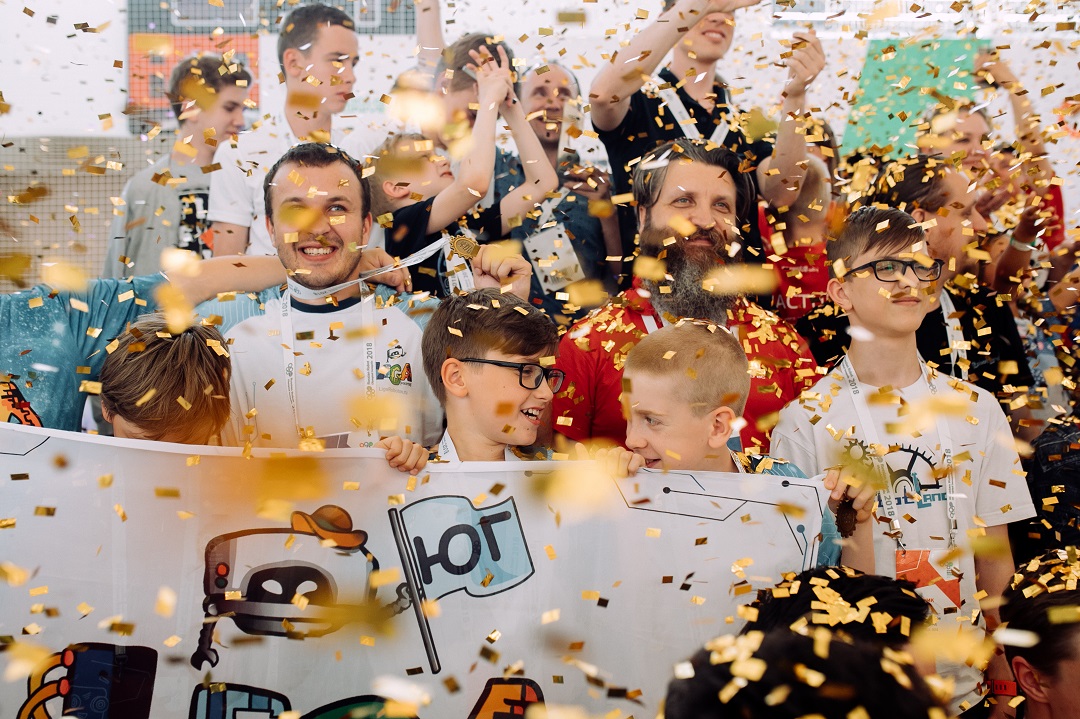 The participants competed in 14 categories, 11 of them are permanent: "Creative" and "Regular" categories for elementary, junior and senior age groups, "Robot football", "Advanced IRS", "Water IRS", "Road IRS", "Flying IRS". "IRS Project", "Manipulators" and "Mobile IRS" are three new categories.
The main topic addressed in the Olympiad was "Food matters". It is related to the second aim of the UN sustainable development plan: end hunger, achieve food security and improved nutrition, and promote sustainable agriculture.
The winners of the competition and participants distinguished by the judges will come back to Innopolis University in August 2018 to participate in the Federal IT training camp. Following the camp results, the IU university will form the Russian national team that will participate in the World Robot Olympiad in Thailand this November.
Aleksey Khabibullin, head of the Project-Oriented Academic Competitions Office at Innopolis University: "We notice that the level of participants increases each year. For instance, the number of teams in the most difficult categories "Road IRS" and "Flying IRS" grew substantially. The geography of winners also extended. The participants from the Udmurt Republic took three gold medals this year – fantastic result. Traditionally the following regions provide strong teams: Primorsky Krai, Nizhniy Novgorod, Moscow, Republic of Tatarstan, and Saint Petersburg. Considering the level of participants, we have all chances to repeat successful results achieved last year at the WRO 2017."
It was the fourth Russian Robot Olympiad organized on the base of Innopolis University. In 2014 the IT University became a national provider of the WRO. During the WRO 2017 the Russian team took ultimate first place overall winning 5 gold, 1 silver and 2 bronze medals.
The Russian Robot Olympiad was conducted with support of Lego Education and ICL. Mel, Hightech, Populyarnaya Mechanica, Dnevnik.ru, Robogeek and Zanimatelnaya robototekhnika were Media Partners of the event.
RESULTS
"Road IRS"
1st place — Vladimir Markov and Ivan Kudriavtsev from Tomsk

2nd place — Egor Zautsev, Denis Vorkozhokov, Alexey Dubynin from Kaliningrad

3rd place —Vasiliy Yuryev, Victor Danilin, Mark Syrnev from Novosibirsk
"Water IRS"
1st place — Andrey Gryshchenko, Vitaliy Shevchenko, Dmitriy Horoshilov from Vladivostok
2nd place — Daniil Murzinenko, Anastasiya Varlagina, Kirill Anreashin from Sevastopol
3rd place —Valentina Chernysheva, Mikhail Kozlovsky, Nikolay Tuslov from Krasnoyarsk
"Flying IRS".
1st place — Yevgeny Shklyaev, Maria Krivileva from Izhevsk
2nd place — Daniil Popov from Saint Petersburg
3rd place — Gleb Prislopskiy, Gleb Salashenko, Danil Isaev from Chelyabinsk
"Mobile IRS"
1st place — Andrey Lityushin, Igor Belov from Gidrotorf, Nizhny Novgorod Oblast
2nd place — Daria Arhipova, Maria Syrvacheva from Chelyabinsk
3rd place — Aydar Zubaydullin, Maria Chumakova from Sterlitamak
"Manipulators"
1st place — Danil Ardyshev, Mikhail Ashihmin from Yakshur-Bodya, Udmurt Republic
2nd place — Alexander Lyashenko, Mikhail Shernevskiy from Rostov-on-Don
3rd place — Arina Korobina, Arseniy Molchalin from Mytishchi
TetraStack «Advanced IRS»
1st place — Danila Goryachkin, Mikhvil Lyamaev from Vladivostok
2nd place — Sergey Limonov, Sergey Mishin from Cheboksary
"Robot football"
1st place —Olga Kozlova, Sergey Chuprikov from Moscow
2nd place — Arseniy Levochkin, Pavel Zhuravlev from Naberezhnye Chelny
3rd place — Nikita Grigorenko, Sergey Kostrov from Yekaterinburg
"IRS Project"
1st place — Mikhail Lapin, Nikita Orlov from Izhevsk
2nd place — Vladislav Nikitin, Grigoriy Osipov from Zelenograd
3rd place — Alexey Panin, Andrey Nebogatikov from Perm
"Food matters" (age group – elementary)
1st place — Denis Valiullin and Ivan Proskuryakov from Kazan
2nd place — Dmitriy Gorovoy, Alexey Kudryashev from Saint Petersburg
3rd place — Ivan Chudnovec, Stepan Zargarov, Anton Medvedev from Moscow.
"Food matters" (age group – junior)
1st place — Avdey Besplatov, Gleb Besplatov, Danila Efremov from Nizhny Novgorod
2nd place —Bulat Trofimov, Daniil Trebugov from Kazan
3rd place — Nikita Kopyev, Roman Prokhorov from Chelyabinsk
"Sustainable development" (age group – senior)
1st place — Vasiliy Dunaev, Dmitriy Kharlapenko, Alexander Tyulpanov from Saint Petersburg
2nd place — Alexey Kotov, Georgiy Bondary, Roman Ivanov from Moscow
3rd place — Alexander Alyaev, Daniil Dyachkov from Penza
Special nominations in "Creative" category
"For the best research within the given theme" – Sergey Bulyikin from Novosibirsk

"For finding a simple solution to a difficult task" – Georgiy Trafnyak, Elizaveta Kaplya, Oleg Sinopalynikov from Moscow
«Reduce food waste» (age group – elementary):
1st place — Konstantin Saveliev and Nikita Prostiruk from Novosibirsk

2nd place — Andrey Borchuk and Pavel Matveev from Moscow

3rd place — Aleksey Davydkin и Andronik Manukyan from Moscow
«Reduce food waste» (age group – junior):
1st place — Danil Siyanko and Dmitriy Sapinsky from Vladivostok

2nd place — Anna Arkhipova from Yekaterinburg

3rd place — Amir Zainullin and Ruzil Zagirov from Innopolis
«Reduce food waste» (age group – senior):
1st place — Bogdan Cherepanov and Victoria Nekrasova from Novosibirsk

2nd place — Salavat Yakupov and Bulat Gibaev from Innopolis

3rd place — Galina Aseeva and Leonid Solyanoy from Obninsk