On August 29, 2014, President of the Republic of Tatarstan met with IU's Masters. The following people also participated in the meeting: Russia's Minister of Communications and Mass Media Nikolai Nikiforov, Deputy Prime-Minister of Tatarstan, Minister of Information and Communications of Tatarstan Roman Shaikhutdinov, chief of staff of the President of Tatarstan Asgat Safarov and others.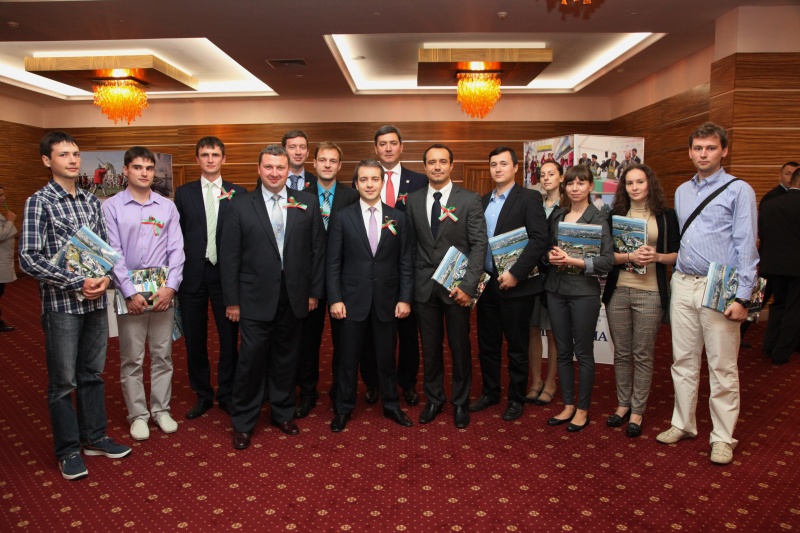 In his speech, Rustam Minnikhanov congratulated the graduates on their successful study. In August, 2014, a group of IU's students completed the program "Master of Information technology-Management of Software Engineering" at the partner university Carnegie Mellon University (Pittsburgh, USA) and obtained Master's double degree diplomas, including an official diploma of the partner university.
In  September 2014, program participants will start their teaching and research activity at Innopolis University. President of Tatarstan noted that they had been waiting for the graduates to return to Kazan. He spoke about the Innopolis construction project and said that they are building all necessary infrastructure, technoparks, and accommodation for future residents of this modern IT city.
Russia's Minister of Communications and Mass Media Nikolai Nikiforov, in his turn, told the graduates about the history of creation of an innovative satellite city "Innopolis"  and about appearance of Innopolis University. "You will become one of the first group of residents of a new IT city. This city is being built according to a principle "learn, live, work, relax", – said N. Nikiforov.