Alexey Volin was acquainted with projects in the sphere of Information Technology and Telecommunications.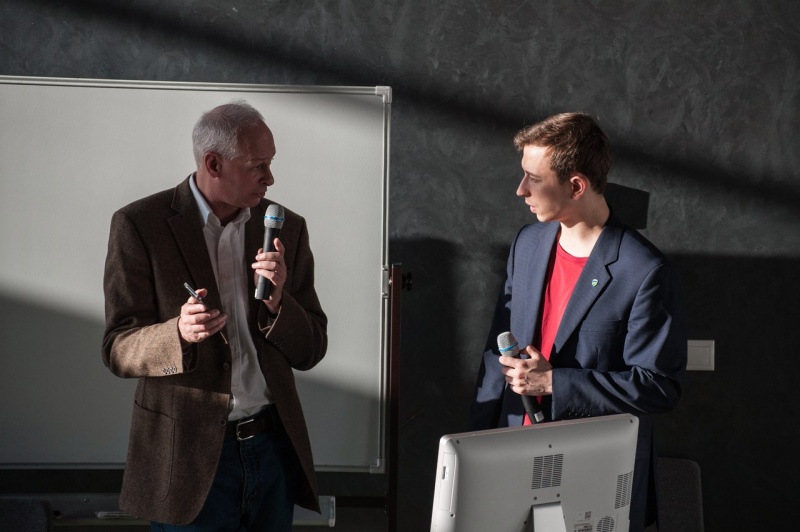 Today students of IT university welcomed Аlexey Volin, Vice Minister of Telecom and Mass Communication of the Russian Federation at Innopolis University. The meeting started with a short presentation in which the Vice Minister covered the issues of media literacy in modern society and intellectual property. The official made a special emphasis on future trends on the media market and information representation on the web.
During the second part of the meeting students of Innopolis University presented their projects in the sphere of data security and telecommunications to the Vice Minister. Kirill Bedraty, Master's degree student of the IT university spoke on the issue of the connection support between unmanned aerial vehicles under heavy communication disturbance. Еvgeny Ponomarev told the visitor about the software complex of hardware-software password manager protocols. A card-size memory device can store passwords from different services and helps to authorize on any web-site automatically.
"Educaiton of IT experts shall consider the current state of industry and provide students with access to the best educational programs and teaching practices along with the front-end knowledge of professional industry experts. The opportunity to present research and business projects and get necessary feedback on them is a chance for students to better understand the market and its demands", - noticed Тatiana Stanko, Vice-Provost for Education.

After that Alexey Volin had a meeting with the university faculty where he learned about the research potential in the domain of new media. Аdil Khan, Professor of Innopolis University, Head of the Machine Learning and Data Presentation Lab told about studies of the interactive media user emotions. Jooyong Lee shared her vision of social network studies as a new media form with the Vice-Minister. Professor Giancarlo Succi paid attention to the new media economy while Qiang Qu told about new media in terms of computer games and issues of human-media interaction. At the end of the meeting, Alexey Volin marked the urgent character of such research studies for the development of new media in Russia.