Innopolis University hosted a meeting of the Working Group on Innovation of the Joint Commission on Economic Cooperation between the Russian Federation and the Kingdom of the Netherlands.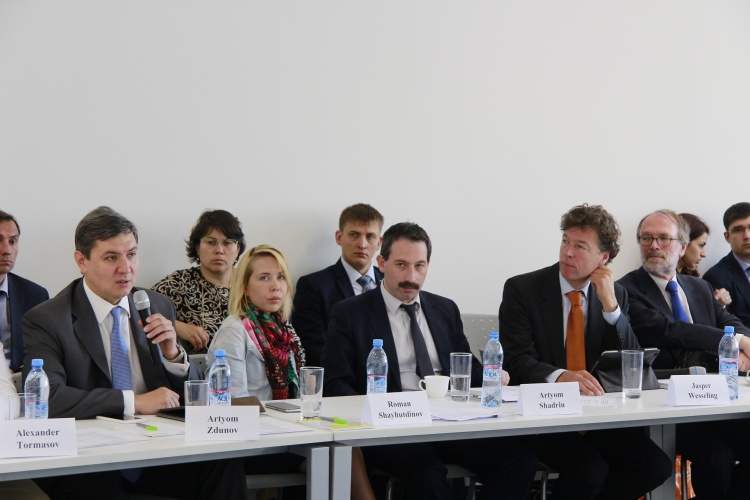 During the session the parties discussed potential of involvement of Dutch partners in implementation and development of projects by Innopolis and Innokam, talked over cooperation in innovation entrepreneurship, biotechnology and information technology and outlined the priority areas and projects for further collaboration in the field of innovation development in partner countries. Alexander Tormasov, Rector of Innopolis University, together with a colleague from the University of Amsterdam, described the origins, content, results and prospects of cooperation between the two universities.
The Working Group on Innovation was chaired by Artem Shadrin, Director of the Department of Innovative Development of the Ministry of Economic Development of the Russian Federation and Jasper Wesseling, Director for Enterprise and Innovation of the Ministry of Economy of the Kingdom of the Netherlands. The meeting was attended by representatives of Russian and Dutch territorial innovation clusters, universities and development institutions. Officially, the parties were represented by Ron van Dartel, Ambassador of the Kingdom of the Netherlands in Moscow, and Roman Shaykhutdinov, Deputy Prime Minister of the Republic of Tatarstan, Minister of Information and Communication of the Republic of Tatarstan.
Elmira Shimchik, Director for International and Academic Cooperation of Innopolis University, told about existing cooperation with Holland: "Starting from the coming academic year, Innopolis University will offer a Master's degree program in Secure System and Network Engineeringwhich was developed on the basis of the program created by the University of Amsterdam, with the expert support of the Dutch partners. In 2015, this program has been recognized as the best one in the field of information technology in the Netherlands.